skip
ACCESS THE LATEST NEWS AND EXCLUSIVE FEATURES
Already registered? LOGIN.
Features
UK'S Greenest Military Base
Date: 2019-02-04 10:02:44.0
Author: Melissa McClements - melissa@thatdot.co.uk

Home to the frontline squadrons of the RAF's elite Tornado Force, RAF Marham is set to become the first British military base to run nearly entirely on green energy. Over 95% of its electricity is now to be fuelled by the fermentation or 'anaerobic digestion' (AD) of locally-grown crops in a nearby Norfolk plant – built and run by Future Biogas, one of the UK's largest AD companies.
In the AD process specially-cultivated bacteria are added to tanks full of harvested crops, like maize, sugar beet, rye or potatoes. As the bacteria breaks these feedstocks down, they release gas, which is siphoned off. It can then be supplied directly to the National Grid as green gas or, as is the case for RAF Marham, burnt to produce electricity. The leftover organic waste from this process is then dried, separated and used as natural fertiliser to help grow more crops.

On 31st January 2019, this landmark green energy partnership, signalling the UK military's transition away from fossil fuels, is to be marked by a launch at RAF Marham. The Right Honourable Tobias Ellwood MP, Parliamentary Under Secretary of State at the Ministry of Defence, will be in attendance.

The AD plant – Redstow Renewables in Swaffham, Norfolk – generates 4.5 MW of electricity every hour, which can power 350,000 LED bulbs. Its new green energy supply to RAF Marham will result in an annual reduction of the Ministry of Defence's emissions by 14,000 tonnes of carbon dioxide (CO2). It will also deliver around £300,000 of annual electricity savings.

Minister for Defence People & Veterans Tobias Ellwood MP said: "RAF Marham is leading the way as Britain's first green military airbase. The biogas fuel is a truly green and sustainable solution, helping us tackle climate change, support the local economy and save taxpayer money.

"I hope that this plant can act as a model and we can see more sustainable energy schemes rolled out across other military bases."

"It's fantastic to see the UK military join the green revolution," commented Philipp Lukas, founder and managing director of Future Biogas. "If we are to combat the imminent global threat of climate change, everyone, from all walks of life, needs to transition to renewable, sustainable energy as quickly as possible.

"The AD plant in Swaffham now powers a significant local institution. In doing so, it not only helps secure the energy supply of a strategic national asset, but also takes the pressure off the local electrical infrastructure, which has been really struggling to keep up with growing regional demand.

"The huge success of this project leads us to hope the door will now open to more of a similar nature. Renewable energy projects that support the local circular economy have to become commonplace if we are to continue to see clean growth in the UK."
Rebecca Sedler, Director of I&C Sales & Marketing, at EDF Energy said: "EDF Energy is pleased to have provided another Power Purchase Agreement for one of our customers which will work for all parties for years to come and will help RAF Marham realise their sustainability ambitions. By taking care of the contractual and operational risks, well-designed PPAs can help more decentralised, low-carbon generation enter the UK energy mix."

The plans for this venture have been in development since February 2015. The Defence Infrastructure Organisation (DIO), the part of the Ministry of Defence that manages the Defence Estate, has collaborated with colleagues at Future Biogas, energy company EDF and Crown Commercial Services, the government's procurement agency, to develop a green, sustainable and cost-effective electricity supply for RAF Marham.

At the outset the DIO undertook a feasibility assessment, to assess the benefits that could be derived from a clean energy supply. As well as saving money and reducing carbon emissions, it was determined that connecting to the AD plant would increase power resilience at RAF Marham, by providing multiple pathways to electricity.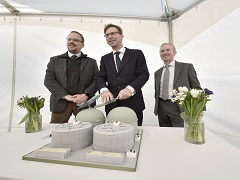 About Future Biogas
Future Biogas is one of the largest producers of biogas in the UK. Established in 2008, the company operates at the forefront of anaerobic digestion (AD) technology, which is about the creation of clean green energy from organic waste, such as feedstocks and farm slurries. It has strong ties with the military, as ten per cent of its staff are ex-forces.
For further information about Future Biogas, please visit the website here.
About Redstow Renewables
Located in Swaffham, Norfolk, Redstow Renewables is the name of the AD plant providing electricity to RAF Marham. Providing skilled jobs for 12 local people, it opened in 2015. Built and run by the expert team at Future Biogas, it was funded by investment manager Downing.
About Downing
Downing is a London-based venture capital firm. Founded in 1986, it administers, develops, and promotes tax-based investments.
For further information about Downing, please visit the website here.
About UK Military Bases and Green Energy
The only other military base in the UK using any form of green energy is MoD Lyneham, in Wiltshire. It has solar panels that supply around 20% of its power.
---
Displaying
2
keywords used to tag this article:
Replica Omega New

New Balance 578 :
---