skip
ACCESS THE LATEST NEWS AND EXCLUSIVE FEATURES
Already registered? LOGIN.
Home
>
Interview Homepage
Interviews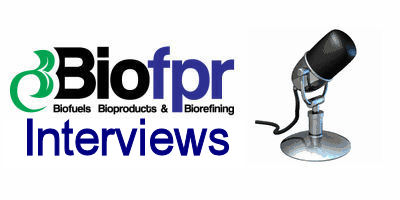 Welcome to the Biofpr Interview Series, where you can read exclusive interviews with some of Industry's finest protagonists. See the world of biofuels from their unique perspectives; glance at a bio-based future through their eyes; and read first hand how their products and policies are leading the way in clean technology, and shaping the future for us all.
Simply click on which interview you'd like to read:
Recently, at Crop World Global 2012 Marcus Meadows-Smith took time out of his busy schedule to talk to C&I/BioFPR's Simon Lightfoot. Previously the CEO of AgraQuest, Marcus is now the Head of Strategy & Business Management for Biologics at Bayer CropScience, following the successful acquisition earlier in the year. Here, he tells us of the advantages the acquisition has meant, as well as current R&D spending trends and tailoring biological solutions to growers' needs.
Learn about the processes involved in improving enzymatic performance for biomass feedstocks – from sourcing the enzymes from fungi, and engineering the optimum performance possible, to taking the product to market.
Adam Dawson is Chief Executive of the Office of Carbon Capture and Storage (OCCS), within the UK Department of Energy and Climate Change, UK. The OCCS was created in March 2010 to facilitate the delivery of CCS as a key carbon abatement technology in the UK for both power generation and industrial applications. Muriel Cozier asks him about the role of the OCCS and the future of greenhouse gas mitigation.
Muriel Cozier interviews Marlene Holzner, Spokesman for Energy European Commission in Brussels, and explores how the European Commission is involved in funding and facilitating future carbon capture and storage (CCS) projects
Jonathan tells us of Solazyme's first biofuels flight with United Airlines, their continued work with the US Department of Defence, and how Solazyme see the future of biofuels and the necessity of a progression to a bio-based economy.