skip
ACCESS THE LATEST NEWS AND EXCLUSIVE FEATURES
Already registered? LOGIN.
Features
Flushed with potential
Date: 2017-09-29 09:54:17.0
Author: Jon Evans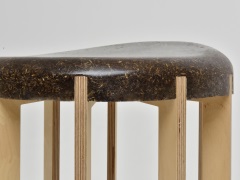 A stool with a seat made of cow manure on
wooden legs, developed by Sanelisiwe
Mafa at Birmingham City University.
Converting waste that otherwise needs to be disposed of into fuels and other useful materials is obviously an attractive option (see Waste too valuable to waste). Doing so cost-effectively has always been a challenge, but the first commercial plants for converting municipal waste into fuels are beginning to come on-stream.
For example, Canadian company Enerkem started producing biomethanol from waste last year. Now, through the recent installation of a methanol-to-ethanol conversion unit, it has become the first company in the world to produce cellulosic ethanol from non-recyclable, non-compostable mixed municipal solid waste at commercial scale. This whole field could soon become a lot less pleasant, though, thanks to two recent studies demonstrating the potential of some rather less attractive forms of waste.
In a paper in Energy Technology, Dutch scientists led by Gadi Rothenberg from the University of Amsterdam investigate the possibility of generating electricity from used toilet paper. The scientists freely admit that used toilet paper offers some unique challenges, mainly due to it containing – as they rather delicately put it – 'fecal matter'. However, used toilet paper also offers some clear benefits as an energy feedstock: it's derived from plant biomass; it's a rich source of carbon, comprising 70–80% cellulose by dry weight; and it's always available, with the average person generating 10–14kg a year.
It's also better than free, because sewage treatment plants will pay to get rid of it. As part of this study, Rothenberg and his colleagues spoke with a Dutch sewage treatment company, which confirmed that removing used toilet paper from sewage by sieving would reduce the energy required for treatment by 40%.
The process that Rothenberg and his colleagues came up with for generating electricity from used toilet tissue involves first drying it and then heating it in a gasifier at around 900°C to produce a gas containing hydrogen, carbon monoxide and dioxide, and methane. This gas would also contain a whole host of impurities, which are removed in a series of cleaning steps. These include passing the gas through a cyclone to remove any char and ash, and then through three linked columns containing scrubbing oil to remove light and heavy tars. Rather handily, the recovered char, ash and tars can be burnt to provide heat for the gasification step.
Finally, the cleaned-up gas is fed into a solid-oxide fuel cell (SOFC), where the hydrogen, carbon oxide and methane are oxidized, freeing electrons that are sent round an external circuit to generate electricity. When Rothenberg and his colleagues modelled this process, they found it had an electric efficiency of almost 60%, making it two to three times more efficient than conventional waste incineration. According to their calculations, 10,000 tonnes of used toilet paper, which is the amount produced in Amsterdam each year, would generate more than 20GWh of electricity, sufficient to power 6400 households.
Their calculations also showed that the process was quite expensive, generating electricity at a rate of €0.20 per kilowatt hour, compared to the current market price of €0.05 per kilowatt hour. This still makes it comparable to the cost of producing electricity with residential solar panels, and Rothenberg and his colleagues are confident that the price will come down as SOFCs become a more mature technology.
Whereas used toilet tissue might contain some fecal matter, Sanelisiwe Mafa, a product design student at Birmingham City University in the UK, is focusing entirely on fecal matter, albeit fecal matter from cows rather than humans. She has developed a method for making furniture from cow manure, by combining it with a polymer binder to create a range of stools and designer flower pots.
"I wanted to design furniture that would display cow manure as a beautiful material for design," she says. Unpleasant it may be, but poo could well have a rather attractive future, which shouldn't just be flushed away.
---
The views represented here are solely those of the author and do not necessarily represent those of John Wiley and Sons, Ltd. or of the SCI.
---
Displaying
8
keywords used to tag this article:
Chopard watches

モンクレールNANTESFURブラ

Vacheron Constantin watches

Envíos y Devoluciones : chaqueta B

Replica Rolex Datejust Special Edit

BlancPain Watches : Replica Rolex W

Christian Louboutin Brudskor :

Cosmograph Daytona
---